Association
The Ridgely's Delight Association, Inc. plays a large role in making our neighborhood a better place to live. With community involvement in the Association, Ridgely's Delight is a cleaner, safer and friendlier place to live.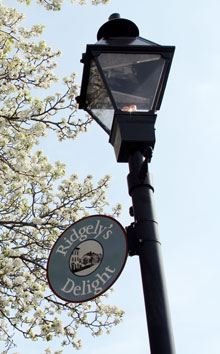 The Association plans:
Review the list of the Association's current projects and initiatives.
The Association may hold a monthly board meeting open to all members of the community on the first Wednesday of the month. The president of the Association may also call for a general community meeting before the board meeting if there are issues of interest to the community. The time and location of all meetings will be published in the newsletter.
Read the minutes from previous meetings.
The following information is from the Association's by-laws.
Any person residing in, owning property in, operating a business located in or representing a business or fraternal organization in Ridgely's Delight is a member of the Association.
In order to remain a member in good standing and be eligible to vote, a member must be at least 18 years of age and must attend at least two regular or Board meetings or previously sanctioned community events within four months prior to the meeting at which a vote will be cast.
Attendance at both a regular and Board meeting on one day shall not count as attendance at two meetings. A community-sanctioned event at which attendance will count toward becoming a member in good standing. The Board of Directors will determine which events are community-sanctioned. Notice of community-sanctioned events is published throughout the community, which may be on this site, in the newsletter, on the community Facebook page or by email. If attendance at any such event involves payment of a fee, provision shall be made for a member to appear at the event without payment to register his or her attendance towards good standing.
If you'rd like to find out if you are a member in good standing, please email admin@ridgelysdelight.org.
Eligible persons are not required to pay a fee as a condition for becoming a member nor for maintaining membership. Volunteer contributions offered for the purpose of supporting community-sponsored activities will be accepted.
The Association operates under by-laws that are reviewed annually. Read the Association's by-laws.
The by-laws are currently under review by a committee of community members. If you have suggestions or comments on the by-laws, you can attend an upcoming committee meeting and offer input. The date, time and location of each meeting is published in the newsletter. If you cannot attend, you can also send your feedback to president@ridgelysdelight.org. The committee will present its suggestions for changes to the by-laws at a community meeting later in the year, and the date of the meeting will be published in the newsletter.
Review the minutes from previous by-law committee meetings.
President: Ben Marks
Vice President, Operations: Bobby Goodfellow
Vice President, Communications: Kate Leitkowski
Secretary: Ab Bear
Treasurer: Chad Terry
Parliamentarian: Paul Rubenson
Board Members: Al Passerella, Rachel Murphy, Megan Moorer, Rosalie Barrett, Norman Finnance
Share this site.

Photos ©Joanne Drummond. All rights reserved. Reproduction or downloading without permission is prohibited and is a violation of federal law.