Trash Disposal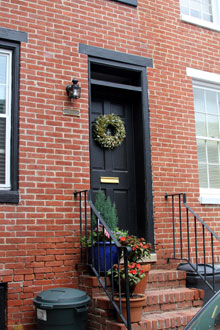 Regular trash pick-up is on every Wednesday morning except holidays. Keep trash in covered containers marked with your address. Do not put trash in alleys except after 6 p.m. the night before pick-up. Take cans out of alleys after pick-up.
Please place all recycling materials (plastic and glass bottles and jars, paper and cans) in recycle bins, cardboard boxes, paper bags or a clearly marked container and they will be collected on Friday mornings. Get more information.
First Tuesday of the month. Residents must call 311 three business days prior to pick-up for an appointment. You can also schedule an appointment online. Place items in alley the day before pick-up. Find more information.
Open to all city residents. They will take most trash, including electronics and recycleables. 
701 Reedbird Avenue
(410) 396-3367
Mon.-Sat. 9:00 a.m.-5:00 p.m. Fall/Winter 
9:00 a.m.-7:00 p.m. Spring/Summer
April through October, first Friday and Saturday of each month
Northwest Citizen Convenience Center, 2840 Sisson Street
Dispose of items such as oil-based paints, pesticides, herbicides, car and household batteries, drain cleaners, gasoline.
Not accepted: trash, asbestos, ammunition, fire extinguishers, industrial and medical waste, and radioactive materials, including smoke alarms with a radioactive symbol.
The City will collect bagged leaves every Monday from mid-October until mid-January. Specific dates are available in the fall and are published in the newsletter and on social media.
To have your leaves picked up on any Monday during leaf collection season, call 311 before Sunday at 10 p.m. for next-day collection. You can make multiple appointments for up to two months prior to the pick-up date. You can leave out up to 15 bags each time.
In addition, trash crews will collect up to five bags of leaves on our regular Wednesday trash collection day.
Put leaves in clear or labeled bags and place them next to your trash can.
You can also drop off bagged leaves at five Bureau of Solid Waste locations:
Monday through Saturday from 9 a.m. to 5 p.m.:
Quarantine Road Sanitary Landfill – 6100 Quarantine Road
Western Sanitation Yard – 701 Reedbird Avenue
Eastern Sanitation Yard – 6101 Bowleys Lane
Northwest Sanitation Yard – 2840 Sisson Street
Monday through Saturday from 7 a.m. to 3 p.m.:
Northwest Transfer Station – 5030 Reisterstown Road
Share this site.

Photos ©Joanne Drummond. All rights reserved. Reproduction or downloading without permission is prohibited and is a violation of federal law.