Neighborhood Information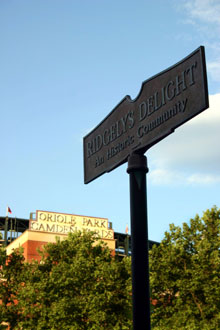 What a pleasure it is to be able to stroll from your house to a baseball game or a sidewalk cafe overlooking the harbor or to any number of enjoyable and interesting places! Despite proximity to so much activity and excitement, Ridgely's Delight retains its historic, small-scale, residential flavor.
Ridgely's Delight has an active community association, and we encourage everyone's participation. Learn more about it.
The neighborhood's historic designation protects the charming atmosphere of 19th century houses on tree-lined streets. Babe Ruth was born here, George Washington slept here, and we're still making history today.
Our convenient location at the edge of Baltimore's Downtown Business District and just off I-95 makes accessibility one of the great qualities of Ridgely's Delight. Many residents walk to work in nearby office buildings or University Hospital or to the professional schools of the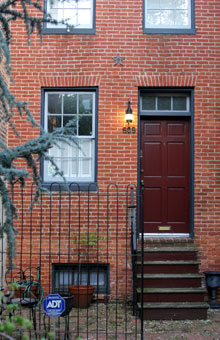 University of Maryland. We're just a short walk to the MARC train station and lightrail stations and Charm City Circulator stops and a15-minute drive to Baltimore Washington International Airport.
View a map of Ridgely's Delight.
We're within walking distance of many Baltimore attractions, including:
Share this site.

Photos ©Joanne Drummond. All rights reserved. Reproduction or downloading without permission is prohibited and is a violation of federal law.