Afternoon Delight: Ridgely's Delight's Home and Garden Tour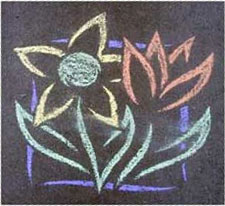 Ridgely's Delight presented the Neighborhood Home and Garden Tour that featured 13 historic properties in the community, including 11 homes, the Babe Ruth Museum and a classic print shop. Approximately 200 visitors spent the afternoon following the map to the chalk prints that marked the properties on the tour, chatting with the neighbors and lingering for refreshments at the Babe Ruth Museum. The guests were impressed by the variety of homes in Ridgely's Delight as well as the friendly and community-oriented spirit of its residents.
Take a virtual house tour by reading some of the pages from our guidebook.
Read the letters from our guests.
Share this site.

Photos ©Joanne Drummond. All rights reserved. Reproduction or downloading without permission is prohibited and is a violation of federal law.