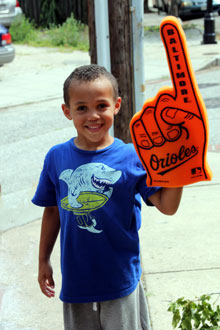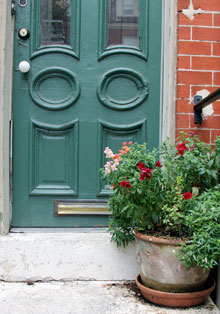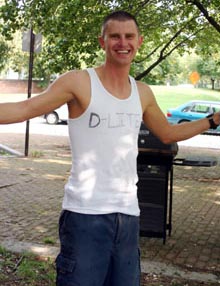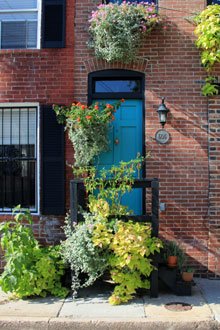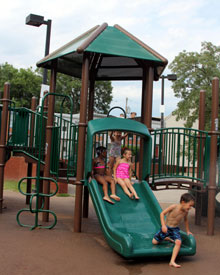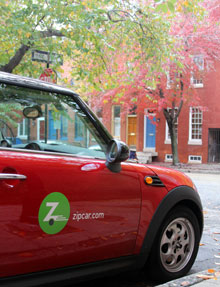 Residents' Information
Need to figure out how to get approval for renovations to the outside of your home or where to go for a parking permit? This page provides important information to help simplify life for Ridgely's residents. In addition, check the Links page for a list of useful external sites if you'd like to know more about transportation, social activities, tourism and City and State programs.
The best part of a neighborhood is the people who live there. Find out about activites and events where you can meet and mingle with the neighbors.
Ridgely's Delight is home to many animal lovers. If you have a dog, please be considerate by keeping it on a leash and cleaning up after it. Please do not allow your dog's barking to disturb your neighbors.
If a dog's barking is disturbing you, let the owners know that their dog is disrupting the peace. If the barking continues, please call 311.
Many neighbors walk their dogs at Conway Park on the south side of the neighborhood. Conway Park is not an official dog park, so it is against Baltimore City law to have your dog unleashed in the park. Dog owners put themselves, their dogs and other animals and neighbors at risk when let their dogs romp around the park
off-leash. Due to recent issues with aggressive dogs in the park, the police are monitoring the park more closely and will ticket owners who do not leash their dogs.
There are a few off-leash dog parks within a short distance from Ridgely's Delight.
Howard's Park on North Howard Street, within walking distance of Ridgely's, is always open.
The Locust Point Dog Park is located in the southeast corner of Latrobe Park, close to Fort McHenry and is complete with Astroturf, faux rocks, a water feature and small dog hours.
The Canton Dog Park has two separate spaces for small and large dogs, expansive areas for your dog to meet other canine friends and a water source outside.

Get more information about these parks and other tips for keeping a dog in the city.
If you are a dog owner or lover, join the Ridgely's Dawg Crew on Facebook.
To report a fire or crime, call 911.

Call 311, download the iPhone or Android app or go online to report the following concerns: animal issues (bites, strays, wild animals, rodent problems, barking dogs), water emergencies, housing violations and vacant buildings, abandoned vehicles, downed signs, problems with traffic signals, fallen trees or branches, sanitation problems, health violations, graffiti in public areas, street damage, potholes, snow removal needs and broken street lights.
Look up phone numbers for other important City services.
Hint: Always write down the name of the person you talked to, the date of the call and a summary of the discussion.
It's easy for you to stay up-to-date with the neighborhood happenings.
Find the closest places for quick cash, gas and other necessities as well as restaurants and banks.
While we're an urban neighborhood, or maybe because of it, we realize how important it is to make environmental preservation a priority. Find out what we're doing to encourage green living.
You may qualify for tax credits if you have made property improvements. Get more information.
Residential parking permits are required for on-street parking in Ridgely's Delight. For more information, review our parking page or call 443-573-2800. Renew your parking permit.
Residents vote at School 22, 800 Scott Street. For information on voter registration, please call 410-396-5550. Review the list of our elected officials and their contact information.
A rain barrel is a rainwater collection system that stores water from rooftops. Collecting rainwater helps to protect Maryland waterways and helps property owners to save money. Rodgely's Delight is working with Blue Water Baltimore to help neighbors get rain barrels. Learn more.
If you are making external renovations to your home, they must conform with historic standards established by Baltimore City's Commission for Historical and Architectural Preservation (CHAP). Review the CHAP approval process and the guidelines for renovations.
If you want to find out if your project needs CHAP approval, or if you have questions about the process, please contact Ridgely's Delight's Architectural Review Committee at arc@ridgelysdelight.org. For building permits, please call the City at 410-396-3360.
Check out our safety page to find out more about our Crime and Safety Committee, the Neighborhood Crime Watch program, self-defense classes, crime statistics and safety tips.
Review our trash page to find out when and how to dispose of trash, recycling, bulk trash, hazardous waste and leaves.
If you need a car for limited use, like grocery shopping and occasional errands, ZipCar could be the ideal solution. Ridgely's Delight residents are entitled to a discount on the already affordable plan. The annual membership fee is $35, and rates are from $7.75/hour and $53/day. There is no set-up fee, and gas, insurance and up to 180 miles per day are included. ZipcCar also offers discounts to local attractions.
You can find cars right in the neighborhood at the corner of Portland and Greene and at the corner of Washington and Warner. Other types of vehicles are located throughout the city.
Visit www.zipcar.com to register. After entering your home address, look for Ridgely's Delight Association Group Discount at the top of the page to make sure you are receiving the reduced rate.
Share this site.

Photos ©Joanne Drummond. All rights reserved. Reproduction or downloading without permission is prohibited and is a violation of federal law.