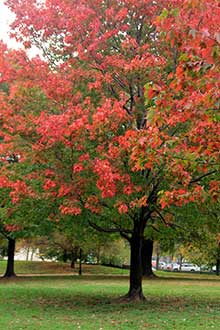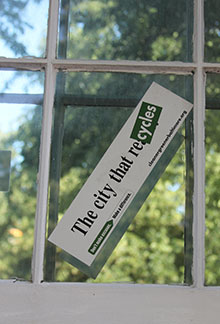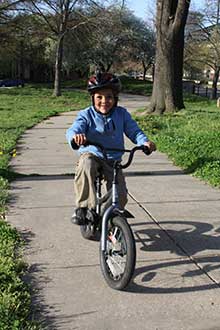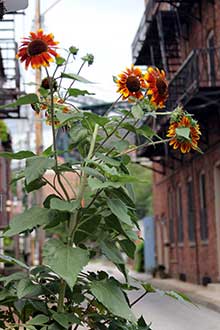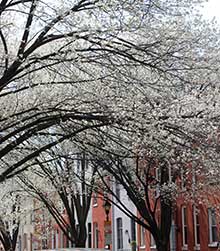 Green Living
While we're an urban neighborhood, or maybe because of it, we realize how important it is to make environmental preservation a priority. We encourage everyone in Ridgely's Delight to join us in our efforts to go green.
As you can see on our map, for such a small area, we have a lot of green space, which we have preserved for future generations through zoning laws. Conway Park, the tot lot and several smaller plots throughout the neighborhood are ideal spots to play with your kids, meet friends, walk your dog and enjoy the relaxing landscape.
Do you want to learn how to make your back yard bloom, or do you have a green thumb and want to share your knowledge with others? Maybe you don't have any green space on your property, and you'd like to adopt a special spot in the neighborhood as part of our annual Adopt a Garden project. If you fit any of these categories, please sign up for our informal Ridgely's Gardening Club. Simply register with Yahoo Groups and sign up for the Ridgely's Delight Gardening Group.
It's easy to get around the city by walking, biking or taking public transportation.
Ridgely's Delight supports the City's efforts to save gas and cut down on traffic through Bike Baltimore. Visit the Bike Baltimore site for a map of bike lanes and roads many cyclists use, a bicycle commuter resource guide and cycling laws.

To meet up with others bikers and participate in cycling advocacy activities in Baltimore, visit the Bikemore site.

If you can't get to your destination by bike or on foot, there are several public transportation options nearby.
You can buy more nutritious food and support the local economy by shopping at local farmers markets. Following is a list of a few near Ridgely's Delight:
Fallsway Farmers' Market & Bazaar
Saratoga Street between Holliday and Gay Streets (under JFX)
Sundays, 8 a.m. – noon, Apr.  to Dec.
University Farmers' Market
Plaza Park, Corner of Paca Street & Baltimore Street
Tuesdays, 10 a.m. – 2:30 p.m., May to Nov.
Baltimore Museum of Industry Farmers' Market
1415 Key Highway
Saturdays, 9 a.m. – 1 p.m., May to Oct.
Fells Point Farmers' Market
800 Block of South Broadway, Broadway Square
Saturdays, 7:30 a.m. – noon, May to Nov.
Pratt Street Farmers' Market
100 Light St.
Thursdays, mid-June through Sept.
Pigtown Farmers' Market
Carroll Park
Thursdays, 3 – 7 p.m., June through September
Each month, the Association leads a community clean-up to pick up trash, clear sewers, plant trees and perform other activities to keep the neighborhood looking beautiful. Volunteers meet at the Burgundy Street parking lot around 9 a.m. and work until 11 a.m., usually finishing up with beer and pizza provided by Pickles Pub. Dates and exact times are published in the newsletter and on the calendar on our homepage.
Marylanders can earn stormwater fee credits for participating in a public project, such as the clean-up. Simply submit the certificate you receive after participating in the clean-up with the completed stormwater credit application.
The Association encourages the neighborhood to become educated on stormwater fees and learn about ways to reduce these fees.
View Stormwater Remediation Fee Q&A flier
View Stormwater Fee Residential Credit flier
Download stormwater credit appllication
Living in an historic district often means having outdated systems that are not energy-efficient. We welcome Baltimore Energy Challenge at our community meetings to learn how we can save money and natural resources in our homes. Review their top ten tips to help you lower your energy bill.
We've also introduced Retrofit Baltimore to the neighborhood. If you are a homeowner, Retrofit Baltimore can provide you with an energy analysis of your property and a list of things you can do to make it more energy-efficient. This can help you cut your energy bills, lower your carbon emissions and fight climate change. The State of Maryland offers incentives that can make this service very affordable, too.
The City has launched a new campaign to make everyone aware of the problems caused when disposing of fats, oils and grease from food in the garbage disposal. These materials can stick to the walls of the pipe and eventually lead to blockage of the line and sewer back-ups, which can harm the environment. There is a better way to dispose of meat fats, cooking oil, food scraps, sauces, salad dressing, mayonnaise, lard, shortening and butter.
Pour it into a covered container and store it in the refrigerator or freezer.
When the container is full, throw it in the trash.
In addition, to avoid back-ups of our aging sewer system, throw toilet tissue only in the toilet. For more tips, visit www.cleanwaterbaltimore.org.
Healthy trees enhance the beauty of our neighborhood, and according to a recent survey, tree-lined streets have a lower crime rate. We work with the City to remove fallen branches and trees and to plant new trees when needed. If you see a damaged tree in a public area, contact president@ridgelysdelight.org or 311. Also, please water the trees near your home in hot weather to keep them healthy.
A rain barrel is a rainwater collection system that stores water from rooftops. Collecting rainwater helps to protect Maryland waterways and helps property owners to save on stormwater fees. Ridgely's Delight is working with Blue Water Baltimore to help neighbors get rain barrels. Learn more.
Review our trash page to find out when and how to dispose of trash, recycling, bulk trash, hazardous waste and leaves.
A clean neighborhood will have a big payoff, including a healthier environment. Ridgely's Delight has participated in Baltimore's Clean Community Competition by planning several initiatives to coincide with the criteria for judging:
Recycling tonnage
Cleaning debris from non-adopted vacant lots and/or greening and beautification efforts (planting trees, flowers, etc.)
The percentage of households using trash cans with lids
Storm drains (sweeping and clearing debris)
Adopting up to two vacant lots and painting or stenciling storm drains

Share this site.

Photos ©Joanne Drummond. All rights reserved. Reproduction or downloading without permission is prohibited and is a violation of federal law.